Cool Springs Plastic Surgery takes a customized approach to help you achieve your skincare goals. We offer a plethora of treatments that can improve nearly every type of skin imperfection. During a comprehensive consultation, our team develops a unique plan that is suited to your skin tone, type and texture to best address all your cosmetic concerns.
Schedule an appointment with one of our experienced beauty experts who will evaluate your face and body and determine if one or more of these skin treatment options is right for you.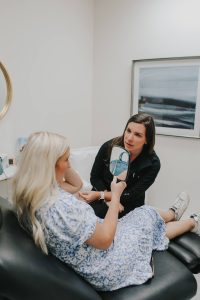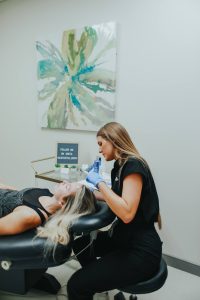 WHICH SKIN IMPERFECTIONS CAN Cool Springs TREAT?
Brown Spots and Hyperpigmentation: Damaged skin cells produce extra melanin. If the melanin clumps, it can create dark spots (often brown, black, gray or red) on your skin. Skin treatments can help you restore an even tone and complexion.
Loose Skin: A natural decline in collagen production causes your skin to lose its elasticity and leads to the formation of fine lines and wrinkles. Non-surgical treatments can help tighten the texture of the skin for a rejuvenated appearance.
Rosacea and Facial Veins: If your cheeks are always rosy, you may have a condition called rosacea that makes facial veins more visible. Treatments can help to reduce the redness of your skin.
Acne & Scars: If you suffer from frequent breakouts or have permanent scars from previous acne, our skin treatments can help you achieve smoother, unblemished skin.
NON-SURGICAL SKIN TREATMENTS
Some of the most popular treatments available at Cool Springs Plastic Surgery include:
BBL (BroadBand Light) Laser: Intense pulsed light is a safer alternative to laser treatments. It uses light energy to increase collagen production and reduce hyperpigmentation, wrinkles and rosacea. This is the same laser used for laser hair reduction.
Microneedling: A series of tiny needle pricks stimulate additional collagen production to smooth and volumize your skin. Combining microneedling with radiofrequency (RF) energy, plasma or mesotherapy enhances the rejuvenation.
Chemical Peel: A safe, custom-formulated chemical solution removes the outermost layers of skin to reveal healthier, unblemished skin beneath.
Injectables: Dermal fillers restore volume to your thinning skin and can augment areas like the lips and cheeks. Botulinum toxin injectables can temporarily freeze specific muscles that cause lines to form on your thinning skin.
Laser Resurfacing: The Matrix Fractional CO2 laser and the Halo Laser (which combines ablative and non-ablative lasers to treat multiple layers of skin) are great for addressing enlarged pores, mild wrinkles and hyperpigmentation to reveal skin with a smoother texture and tone.
HydraFacial: This relaxing treatment cleanses, exfoliates and nourishes your skin for smaller pores and a brighter complexion with no downtime or skin irritation.
Dermaplaning: By removing dead skin cells and peach fuzz from the face with dermaplaning, you improve your complexion and also allow other skin care products and treatments to work more effectively.
Ultherapy: Using gentle ultrasound energy, Ultherapy stimulates new collagen production to tighten loose skin, especially around your neck, chin and eyebrows for a lifting effect without requiring surgery.
CoolSculpting: This non-surgical fat reduction procedure uses cold temperatures to freeze and destroy unwanted fat cells. It works successfully on many areas of your body, including your stomach, back, hips, thighs, arms, chin and neck.