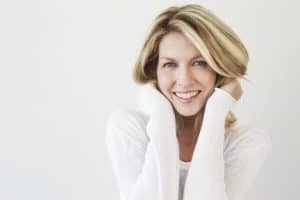 Many women struggle with irritation, itching and other uncomfortable symptoms due to excess labial tissue or misshapen labia majora and labia minora. Women may be self-conscious of the appearance of their labial tissue, affecting self-esteem during intimate moments and intercourse. Dr. John Moore and Dr. Konrad Sarosiek perform this surgery to decrease the length of the labia minora and may alter the labia majora and tissue around the clitoral hood to reduce these symptoms.
The labiaplasty addresses asymmetry when one side of the labia is longer than the other or reduces the length of both labia. Patients who experience tugging or twisting of the excess labial tissue in clothing or a bathing suit can eliminate these issues with labiaplasty.
Our surgical team at Cool Springs Plastic Surgery includes our board-certified plastic surgeons. Drs. Sarosiek and Moore can deliver natural-looking labiaplasty results and provide a compassionate, welcoming atmosphere. We play an active role in plastic surgery research and education. Many of our patients refer their friends and family to our surgical team after reaching their own cosmetic goals.
Labiaplasty Procedure Details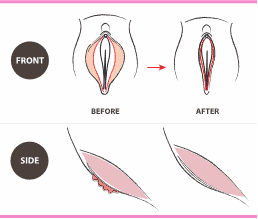 The labiaplasty procedure uses local anesthesia with sedation or general anesthesia, so the patient is asleep for the procedure. There are several surgical approaches; the technique our surgical team recommends depends on each patient's unique needs. Trim labiaplasty is the most common method and involves trimming the excess tissues from the labia. The wedge technique removes a pie or wedge shape of labial tissue to preserve its natural form. Some labiaplasty techniques reduce extra folds around the clitoral hood.
Absorbable sutures close the surgical site(s), and patients typically need to take one week off from work while the pain and swelling decrease. Our doctors recommend elevating the pelvic region to reduce swelling and using an ice pack between an elastic garment (such as Spanx) and underwear. Women with the trimming labiaplasty procedure may have a faster recovery than those with the wedge method.
Candidates for a Labiaplasty
Patients interested in vaginal rejuvenation typically have labial changes after pregnancy and childbirth and wish to restore their external genitalia after the trauma. Other candidates may have naturally large or irregular labia majora and/or labia minora. Women who want to improve the appearance of their labial tissue and get rid of uncomfortable or embarrassing issues caused by the excess typically qualify for labiaplasty.
Patients must be at least 18 years old and in good health with no medical conditions that may complicate healing, such as immune system disorders or diabetes. Women who smoke will need to quit before their labiaplasty and through the recovery period.
The typical labiaplasty patient experiences physical discomfort when they have intercourse, exercise or simply sit in a chair. They may be self-conscious of labial size and appearance or have labial tears caused by childbirth.