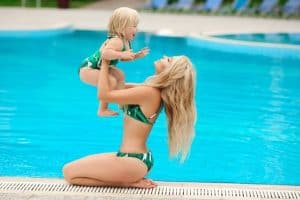 Women often struggle with their body confidence after having children. The myriad of changes to the breasts, abdomen and overall frame during pregnancy make it challenging for women to achieve their pre-baby figure through diet and exercise alone.
Excess skin, stretched abdominal muscles and stubborn fat pockets plague many mothers. At Cool Springs Plastic Surgery, Dr. John Moore and Dr. Konrad Sarosiek offer patients a transformative opportunity to get that pre-baby body back with Mommy Makeovers.
A Mommy Makeover combines multiple plastic surgery procedures performed to restore a pre-pregnancy body shape. These procedures typically include breast surgery, such as breast augmentation and/or breast lift, abdominoplasty, and liposuction. However, mommy makeover is unique to each patient and is tailored to address individual concerns.
Mommy Makeover Procedure Breakdown
Procedure details vary by patient, depending on the type and number of plastic surgeries. The tummy tuck portion of the mommy makeover removes excess skin and fat from the upper and lower abdomen surgically. The abdominal muscles tend to stretch and weaken or separate during pregnancy (known as diastasis recti), and tummy tuck tightens these muscles for a flatter stomach. Abdominoplasty can often remove stretch marks beneath the belly button, but those above the navel will remain (though they will be lower in the abdomen).
Cosmetic Breast Surgery
The breast surgery portion of a mommy makeover may involve breast augmentation with implants, breast lift or breast reduction. Each procedure is tailored to address specific concerns such as restoring lost volume, removing excess skin and sagging breast tissue and elevating the bust to a more youthful location. Our surgical team works to conceal incision lines where they can be easily hidden under a swimsuit top or bra.
Body Contouring
Liposuction removes stubborn pockets of fat in the abdomen and may address other fat-ridden body areas during a mommy makeover. Our plastic surgeons use inconspicuous incisions to insert a cannula to break up and remove fat cells. Liposuction alone won't improve sagging skin, which is why it's regularly paired with tummy tuck and other body procedures for the best results.
Benefits of a Mommy Makeover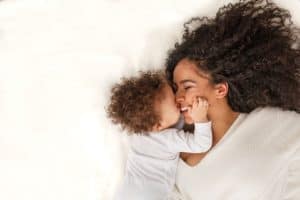 Women with children, especially young children, have very little free time. The most significant benefit of mommy makeover is a streamlined process and healing with a combination procedure and a single recovery. Separating breast and body plastic surgeries means going under general anesthesia multiple times and taking several weeks off from work or away from children after each procedure.
Mothers can reach their pre-pregnancy body shape quicker with mommy makeover surgery, allowing them to resume activities and a regular schedule without another procedure on the horizon. Women tend to choose mommy makeovers so they can enjoy their results sooner.
Why Choose Cool Springs Plastic Surgery
Here at Cool Springs Plastic Surgery, our doctors help patients look like the best version of themselves. We are known for providing natural results that enhance beauty but don't completely change one's appearance.
We take pride in patient education, beginning with the consultation where our doctors explain the plastic surgery experience and provide honest expectations for results. Our surgical team strives for a unique and personal experience for everyone visiting our Nashville office.
Our devotion to high-quality, compassionate care has given our entire team — from our board-certified plastic surgeons to our nurse injectors and estheticians — a reputation for going above and beyond for patients.
Cool Springs Plastic Surgery has been voted a Top Cosmetic Practice in Nashville, Franklin, Mt. Juliet and Brentwood.
How to Get Started with a Mommy Makeover
Transforming one's figure starts with a consultation with one of our plastic surgeons, during which we will discuss candidacy for the desired procedure(s). Women interested in mommy makeover should be finished growing their family, in good overall health and non-smokers with no history of medical concerns that could complicate recovery or the procedure.
If mommy makeover is the best move for the patient's cosmetic goals and health, our doctors will discuss preparation measures, such as discontinuing certain medications or supplements, the procedure details and the recovery process. We make sure to answer all questions and provide our post-op instructions for each procedure on our website. We will schedule the operation, and follow-up visits will occur regularly to ensure an excellent recovery and exquisite results.
Contact Cool Springs Plastic Surgery
To learn more about mommy makeover, schedule a consultation at our Nashville, Tennessee office. Contact our team at (615) 771-7718 or fill out our online contact form.