Is tear trough filler right for you? Everything you need to know about filling your under eyes.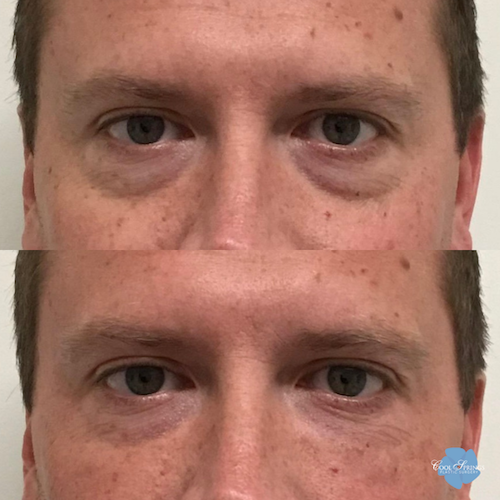 Written by Michele Bailey, Nurse Injector at CSPS Mount Juliet
What does it mean to fill your tear troughs?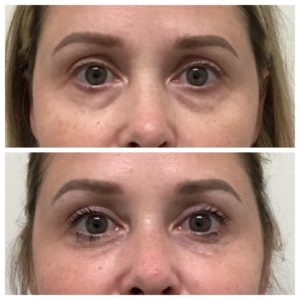 Tear troughs are the areas underneath your eyes. As we age, we can lose fat in this region making it look hollow or darkened, but as you can see to your right, a touch of filler can make those hollows almost disappear. This treatment can leave you free from the appearance of under-eye bags, hurray! But are you a good candidate for this treatment?
Is this treatment right for me? 
Not everyone is a candidate for this treatment. But why? Below we'll describe what makes a good candidate and a not-so-good candidate for this treatment.
If you have frequent puffiness, moderate to large under-eye bags, or creping of the skin, you are not the best candidate. However, you may be a great candidate for a lower blepharoplasty (lower eye bag/lid surgery).
The best candidates for this treatment are those who have hollowing in the under-eye area or a small fat pad herniation (small bags).  
Also, if you are lacking volume in your cheek area we may recommend filler to that area prior to placing any tear trough filler.  The two go hand in hand for the best results possible.  Our awesome injectors can assess you and advise you of the best treatment plan for you.   
Now you know whether tear trough filler could be a solution is for you. But what does the actual treatment entail? 
How is the actual treatment? 
This treatment has minimal discomfort. On a scale of 1-10 of discomfort, tear trough filler is generally a 2-3.  We use a topical numbing prior to the treatment and the filler itself has lidocaine to help with any discomfort.  I do tell patients to expect some swelling for 2-3 days post-treatment.  The swelling can range from minimal to moderate, but you can resume normal activity.  I also advise my patients that there can be some bruising. Oral and topical Arnica have proven to speed up the healing process.  
Show me some results! 
Absolutely. We'll let the results speak for themselves. Here are a few before and afters of this popular treatment: