Asked & Answered: Caleb Says Goodbye to the Dad Bod – Part 1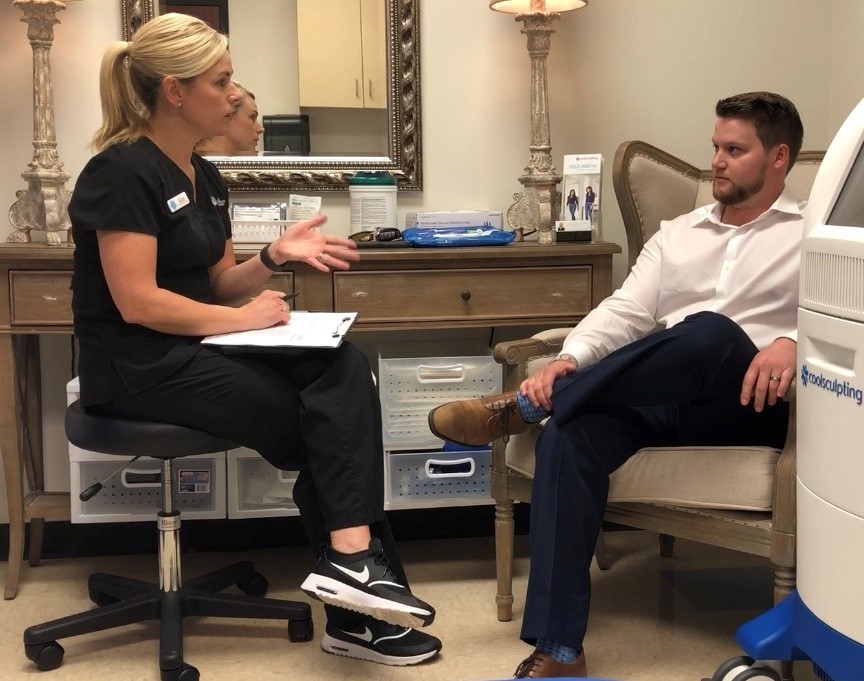 During June, our month of "All Things Men," intrigued, yet skeptical CSPS patient, Caleb, was able to host a Social Media "Takeover." His focus – the nonsurgical treatment taking the cosmetic industry by storm – CoolSculpting! He filmed every step of the way, sharing his experience with us.
We followed up with Caleb post-consultation and treatment. Here is what he had to say:
Describe your daily lifestyle in regards to activity in and out of the office, eating habits, gym time per week, etc.
I would describe my daily lifestyle as very active. I am always on the go between my work, time at the gym and squeezing in social time. As a prior college athlete, I have had to learn how to maintain a healthy lifestyle without the enormous amounts of exercise my body was used to in college. To do so, I typically spend an average of ten to fifteen hours a week in the gym and meal prep the lunches I bring to work.
As much as I have continued to keep up relatively healthy, active habits after my time in college, I could not seem to lose the stomach and love handles I had acquired after my athletic career ended.
What initially sparked your interest in CoolScultping? Areas of concern and why?
My interest was initially sparked by CoolSculpting when I began to hear commercials on the radio and see before and after pictures on my social media newsfeed. I admit that I was highly skeptical of the entire treatment as it seemed too easy and too good to be true for a non-surgical solution to fat. However, I started to see results from men who had the same body type as me and their before and afters were incredible.
Were you skeptical about the treatment? If it would actually work, would you be a good candidate, do men have this treatment done too, would it hurt, how would the results turn out, etc.
As a very active male with a very busy work schedule, surgery was out of the question for me. I did not have any time for recovery or downtime. With work trips and family vacations coming up, CoolSculpting was the most logical option for my schedule.
Describe your thoughts going in to your consultation with Kim. After?
Did you feel comfortable?
 Any feedback from peers?
When I went in for my consultation with Kim, I had done a lot of prior research into the treatment and what I could expect. Because of this, I felt fairly comfortable going into the office. I also knew Kim was a Nurse Practitioner, giving me even more confidence in her abilities and knowledge about the treatment. I had seen enough before and afters of men who had CoolSculpting to know I was not alone in my concerns and this was not just for women.
Since my treatment, I have been pretty open about sharing that I had CoolSculpting. What I have found, is that. as I have talked about my experience with my coworkers, many have expressed very similar concerns that caused me to consider the treatment. The businessmen I work with have opened up about their same frustrations with the inability to loose targeted pockets of fat. They are all eagerly anticipating seeing my before and afters and then will be lining up to have the treatment done themselves.  
How have you felt post-treatment? Were you able to go about your days as normal with no restrictions or pain? Any swelling, bloating, bruising, sensitivity?
The day of my treatment, I went right back to work and then played in my softball league game that evening. There was some slight bruising that lasted for about 24 hours.  For the week following the treatment, I have been swollen in the areas I had treated. There is also a numbness in that area, which Kim explained is a temporary effect of the freezing. However, never in the process was there any pain (during or after the treatment). I went back to the gym the next morning and was able to complete my workouts without any hindrance.
How would describe your experience with CoolSculpting and Cool Springs Plastic Surgery thus far as a new patient?
I felt Kim to have explained the process very clearly and easy to understand. Each step of the procedure and all expectations were fully communicated. There were no surprises, and Kim gave me her contact information after the treatment in case I had any questions or concerns. My coworkers and family have even been impressed with how much information I have been able to relay to them because of how well Kim educated me on a level that was easy to understand.
I am so excited to see the results of my treatment in a few months! For a man walking into Cool Springs Plastic Surgery, I was initially unsure of how I would like the experience, but the environment and employees were so friendly and inviting. Having heard from my male friends and coworkers that they share the same concerns, I feel very comfortable knowing this can be a very effective solution for other men and I want them to know there is an option that does not necessarily have to require surgery and will not prevent them from going about their daily routine.
CoolSculpting has taken the world of beauty by storm! Join in on the craze, and call (615) 771-7718 to schedule your complimentary consultation.