Save the Date: Face Forward Events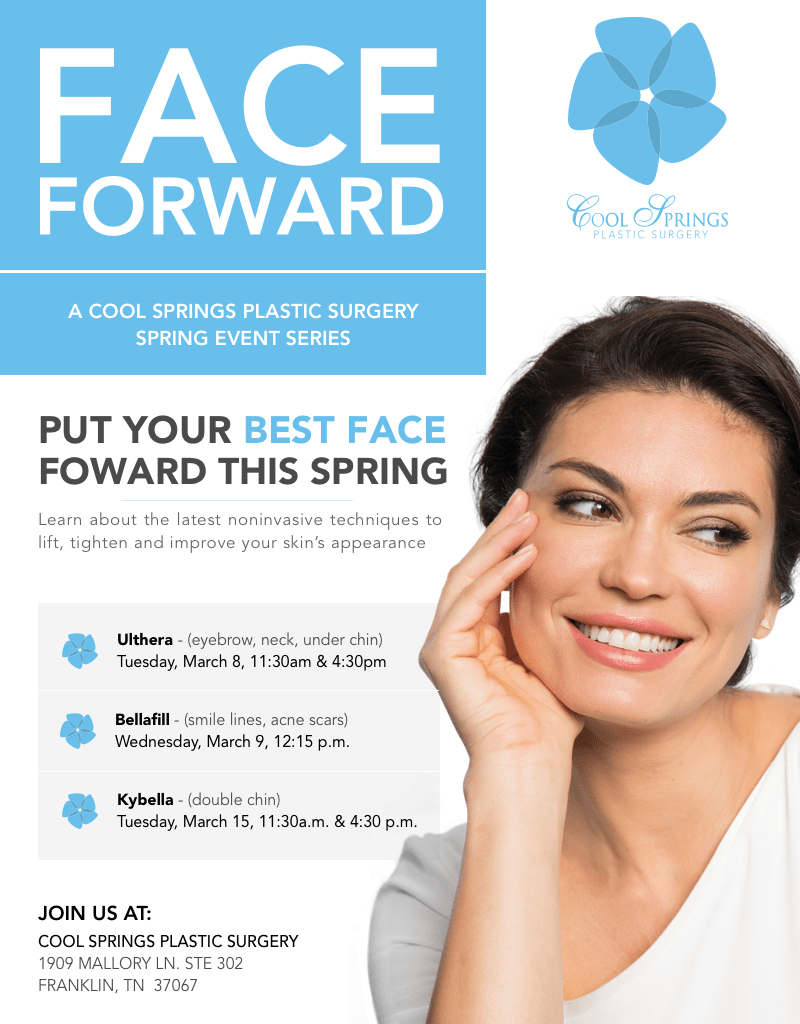 COOL SPRINGS PLASTIC SURGERY WOULD LOVE FOR YOU TO JOIN US FOR OUR NEW SPRING SERIES, FACE FORWARD.
Enjoy refreshments in our new Skin Care Center while hearing about the latest in noninvasive techniques to lift, tighten and improve your skin's appearance.
SPECIALS:
We'll have special event package pricing:
Ulthera: For every $1000 spent, you'll get a $200 credit towards Botox and or filler treatment.
Bellafill: Bellafill is known as the 5-year filler with ability to promote collagen. Normally $900/syringe, you'll be offered the special price of $825 per syringe at the event. If you purchase 5 syringes, which is a "kit," you'll get it for $3500, making it $700/syringe.
Kybella: Special event pricing is $2600 for 3 sessions (6 vials), which is a typical treatment course. In addition, there is rebate for $100 off Botox if you purchase Botox with your Kybella treatment.
VIP PRICING:
As always, if you're a VIP Member at Cool Springs Plastic Surgery, you get special treatment! (in the form of savings, that is). For these events, take an extra $100 off Ulthera and Kybella event packages. For Bellafill, take an extra $50 off per syringe on the event package.
Psst … if you're not a VIP Member, you can become one today.
RSVP TODAY:
Click here to RSVP for the event(s) you'd like to attend and sessions. RSVP is free, but space is limited.