Blepharoplasty—The Basics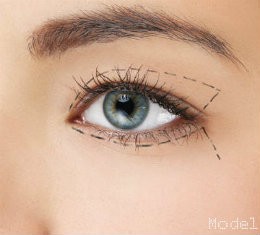 As people get older the fragile skin near the eyes becomes saggier and weaker. Some people notice bags under their eyes caused by fat deposits while other people may have drooping upper eyelids that make them look older and tired.
Blepharoplasty can rejuvenate the appearance of your eyes. Keep reading to learn more.
What is blepharoplasty?
Blepharoplasty is surgery for the eyelids. It can be performed on the upper eyelid, the lower eyelid, or both. During the procedure, extra skin and fat are removed to eliminate sagging, puffiness, and other problems. This procedure can make you look younger, more alert, and happier.
What should you do to prepare for the procedure?
If you're considering blepharoplasty, you should schedule a consultation to evaluate your options. Once a surgery date has been set, you should closely follow the instructions given by your doctor.
There are a few things you should do to prepare:
Tell your doctor about any vitamins or medications you are taking.
Do not take aspirin, ibuprofen, or medications with similar ingredients for two weeks before the procedure.
Avoid wearing eye makeup for two days preceding the surgery.
Shower the day of the surgery, but do not apply deodorant, lotion, or cream to your skin and do not wear makeup. You should leave jewelry and other valuables at home.
What can you do to speed up your recovery?
After your surgery you should closely follow the directions given by your doctor. Most patients can return to non-strenuous daily activities and work 5-7 days after the procedure. The following tips can help you recover as quickly as possible:
Use a cold compress to minimize bruising and swelling around the eyes.
Sleep with your head elevated.
Do not wear eye makeup or contact lenses for 10 days following the surgery.
Don't pluck your eyebrows for 2 weeks.
Avoid alcohol and strenuous exercise for 3 weeks.
Use the recommended antibiotic ointment and eye drops to protect the skin and keep your eyes from getting too dry.
Is blepharoplasty right for you?
Sagging skin near the eyes can make you look older, tired, and stressed. In some cases the sagging skin can even interfere with vision. If you're concerned about bags under your eyes or drooping eyelids, blepharoplasty may be able to help. Schedule a consultation at Cool Springs Plastic Surgery to learn more about your options.