Prepping for a Tummy Tuck? Here's What to Expect: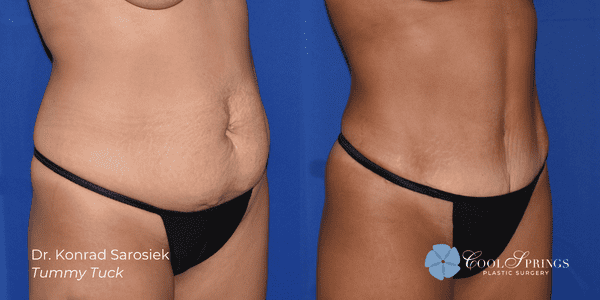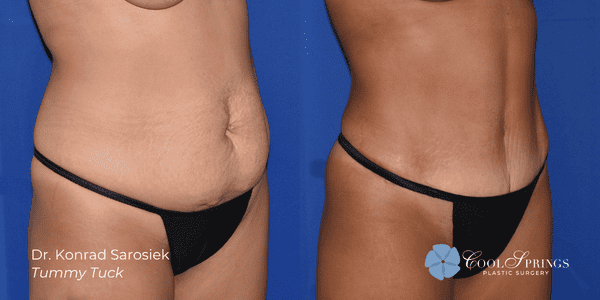 As the holidays come into full swing and you start thinking about 2023 goals, questions about surgical options to help you reach your desired physical appearance may come up. Exercise and a balanced diet are always encouraged by our providers, but it is not lost on us that healthy habits may not address issues like loose, sagging skin around the midsection.
To smooth and tighten this area, our board-certified plastic surgeons Dr. John Moore and Dr. Konrad Sarosiek may recommend the tummy tuck procedure. So often, the biggest concern from our patients is what the recovery process is like.
Things to Consider Before Your Abdominoplasty Procedure
Getting a tummy tuck surgery can be a great way to restore confidence in yourself. However, it is important to plan for your recovery in order to minimize risk and frustration. Here are a few things you need to know:
What to do after your Tummy Tuck:
Get lots of rest. During the first few weeks, your energy levels may fluctuate. This is a common occurrence and it is your body's way of healing. The sleepiness may be caused by pain medication.
Use your pain medication as recommended by our staff. We will make sure you know all the details about pain management before and after surgery.
Seek help from friends and family. Movement after surgery is limited to talking in the first 3 weeks and you won't be able to move much. Chores may need to be handed off, possibly for several weeks. You'll want a good support system.
Get outside, but don't push it. Walking can be very beneficial for healing but you will need to watch your activity level.
Feed your body. To promote healing, stock your refrigerator with healthy fruits, vegetables, and lean protein. For convenience, consider making a few soups or casseroles that can be easily heated and served.
What NOT to do after your Tummy Tuck:
Drive. It's not safe for you or those on the road with you.
Expect to weigh less immediately. Weight loss has the potential to occur as excess skin is removed, but this procedure is known to focus on your shape, as opposed to weight loss.
Smoke or use tobacco. Chemicals prevent oxygenation and inhibit healing.
Exercise. Keep your activities to walking until your doctor says otherwise.
At Cool Springs Plastic Surgery, you have a team of people that will provide the best possible care and outcome. While a tummy tuck may not be for everyone, it is certainly a procedure that has changed the lives of many. Dr. John Moore and Dr. Konrad Sarosiek are booking consultations well into 2023! Call (615) 771-7718 as soon as possible to get on their schedules at our office in Brentwood, Tennessee.