Men + Botox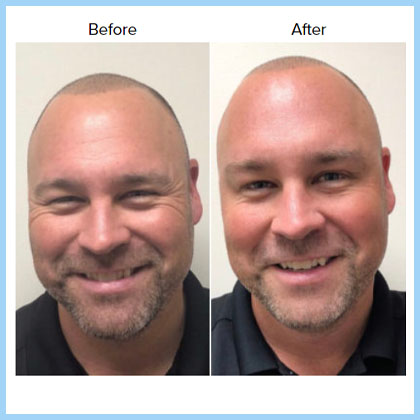 Men and cosmetic treatments are becoming an increasingly common duo as aging continues to happen to all of us – not just women. If you've wondered how your wife/girlfriend or that longtime coworker has managed to remain looking youthful throughout the years, the answer is most likely Botox.
A great place for men to start dipping their toe into an anti-aging regimen is with routine neurotoxin treatments. Botox continues to hold the top spot for male cosmetic, non-surgical treatments according to the American Society of Plastic Surgeons' Plastic Surgery Statistics Report. In 2018 alone, there were well over 450,000 Botox treatments performed for men in the US.
Botox is quick, minimally invasive and helps avoid deep-set lines from forming after years of movement – its no wonder more men are jumping on the Botox trend.
While the number of men we see is increasing, the average age of our male patient base is actually decreasing. More young men are beginning to discover and pursue anti-aging treatments while preventative treatments are still drastically effective. There is no "correct" age for when someone should start Botox or Dysport treatments to relax the wrinkles – but note – the older you are, the deeper the wrinkles tend to be. In these cases, it can take longer for that skin to smooth out, if at all.
In our experience, men require more Botox/Dysport than women because they have more pronounced and stronger facial muscles. However, if dosed correctly, the treatment should last between three and four months. Depending on patient goals and anatomy, Botox can be transformational or simply used to soften lines from folding and deepening.
So, men – relax. Come see us for a complimentary consultation and discover how Botox or Dysport can make you look like yourself, just refreshed and rested.
Usually with a gentle nudge from their wife or partner, we welcome in more men to our practice with each passing month. To learn more about Botox, click here or to view our Botox Before + After Gallery, click here.
Ladies, help us celebrate the men in our lives this month (and get a little something for you, too)! Now through the end of June, enjoy $50 off Botox for you and $50 off Botox for him when you bring your significant other in for your next Botox appointment (perfect Father's Day gift)! 25 unit minimum for each treatment. Valid through June 30th.