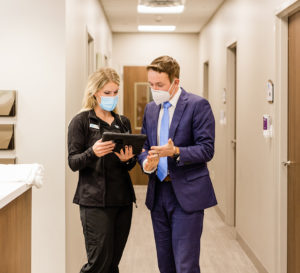 "As the holidays approach, we are so grateful at Cool Springs Plastic Surgery to have our very own state-of-the-art surgery center.  Our dedicated staff helps us perform over 1,200 procedures every year while providing highly individualized care to our patients on their journeys.  The center is on-site and only myself and Dr. Moore perform surgeries here – this makes it much easier for our patients to navigate the day of their surgery.  Hospitals and outside surgery centers can make scheduling complicated while our center is ready to help get patients scheduled so they may have surgery on their time. Whether it's a mommy makeover, a facelift with fat grafting, or a breast augmentation, our patients receive the best care at a facility they already know and trust. Call us now to get scheduled for the busy holiday season!" *Click here to view the before and after gallery.
We hope it has been insightful to hear some of our injectors and estheticians talk about their favorite holiday treatments. Schedules are filling up at all of our locations, and we'd love to get you booked! Our Doctors are scheduling surgery 
and
 consults months in advance, so we encourage you to get in touch so that we can talk over your New Years' resolution. 
Click here
 to book online!