NATIONAL BOTOX DAY – Everything You Need to Know to Access the BEST Savings!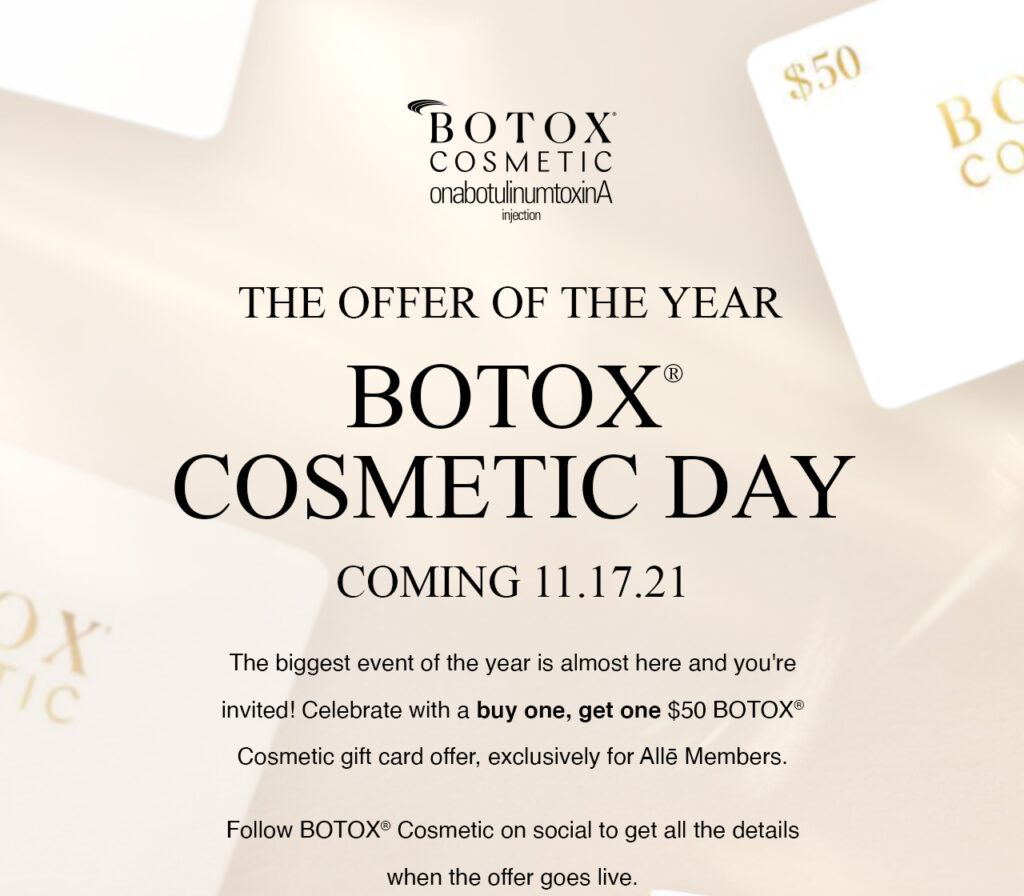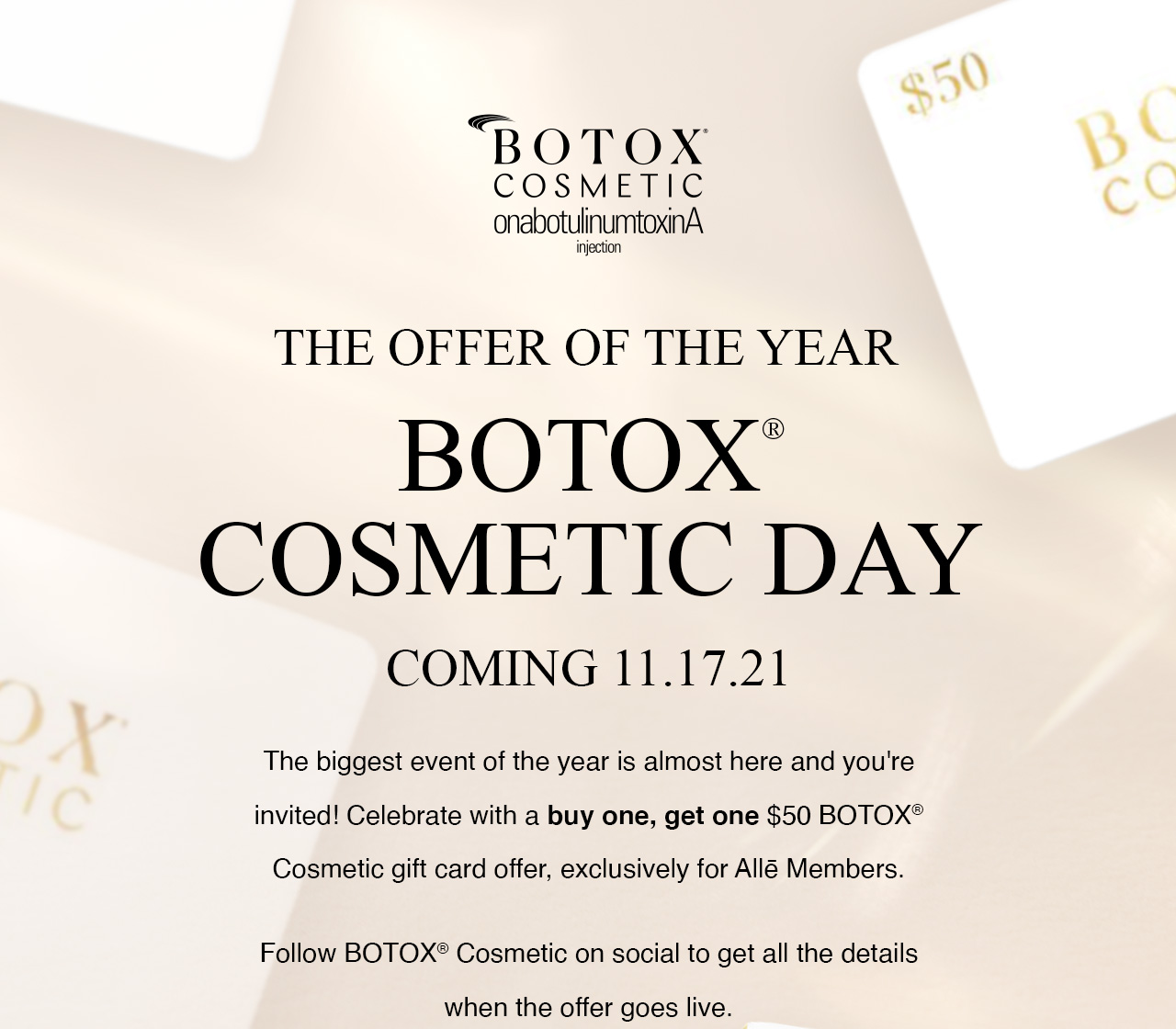 Get double Allē points, $50 off Botox, and BOGO $50 Gift Card ($280+ POSSIBLE SAVINGS!)
BOTOX® Cosmetic Day is almost here! The entire week of National Botox Day (Monday, November 15th through Friday, November 19th), we are celebrating with savings that are available in several forms. Here's how you can save:
Earn double Allē points when you pre-purchase your future appointment of both Botox and Juvederm filler this week. This offer applies to appointments happing this week as well – ask about it when you arrive!
Purchase Your Buy One Get One Free $50 Botox Gift Card while supplies last on Wednesday, November 17th at 11am CST. All you have to do is Register for an Allē account (quick, easy, and free) if you don't have one, set a reminder for Wednesday, November 17th at 11am CST, log into your Allē account, and grab the deal on your dashboard. You may be put into a queue while they process your gift card before you check out. Gift cards may take up to 24-48 hours to apply. Each patient can purchase a maximum of one of these gift cards, and they should be available to redeem within 24-48 hours of your purchase.
$50 Toward Your Botox Treatment!
As a practice, we will be offering one more deal! When you call to pre-purchase your future Botox and filler treatment, we will be offering $50 towards your Botox treatment! This is available when you purchase a syringe or more of filler in addition to Botox in a single appointment. Your appointment must be scheduled before the end of the year. This offer applies to appointments happing this week as well – ask about it when you arrive!
What is Botox?
As we age, wrinkles begin to line our once-smooth faces. The natural, physical display of our emotions, such as laughter and frowns, leave their stamp around our lips and eyes. Though there are claims of creams that lessen the appearance of lines and wrinkles, physician-administered treatment is the only way to effect real change in moderate to severe lines, especially that tough spot between the brows. At Cool Springs Plastic Surgery in Nashville, we offer BOTOX® injections for people in Nashville with visible wrinkles, fine lines, and folds in need of a non-surgical option for facial rejuvenation.
Why Trust Cool Springs Plastic Surgery as your Botox Provider?
CSPS is proudly the #1 provider of Botox in Middle Tennessee and a top 100 Allergan (Botox & Juvederm fillers) provider in the country. Our injectors have been handpicked and trained by Board-Certified Plastic Surgeons and are constantly learning the latest and greatest injectable techniques through conferences, trainings, and aesthetic experts all over the country. Our results speak for themselves! Click here to see before and afters from our practice and feel free to reach out to us at (615) 771-7718 if you have any questions about what we offer.
We can't wait to celebrate with you all on the week of November 17th! Be sure to set your reminders for all the deals—they are available this week ONLY. Happy saving!